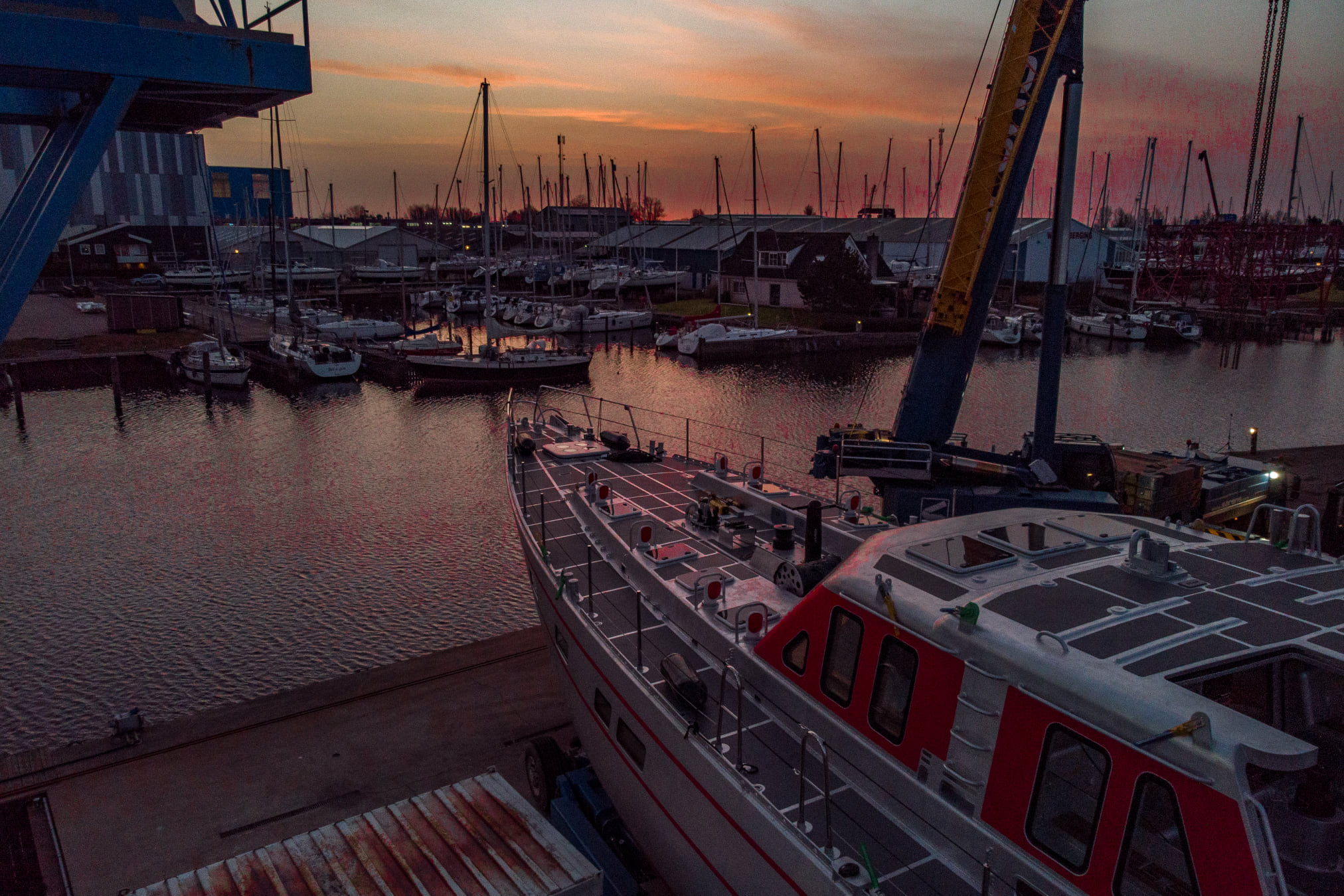 25 February 2021
A beautiful dawn accompanied the launch of the new Pelagic 77 at KM Yachtbuilders in Holland on 24 February 2021. She was designed boat by Tony Castro Yacht Design to sail the most hostile and remote seas of the world. Her official name is now Vinson of Antarctica named after the highest mountain on the Antarctic continent.
Sadly, due to current travel restrictions, designer Tony Castro and Skip Novak, the well-known ocean sailor and representative of the charter company Pelagic Yachts, were unfortunately unable to attend the launch.
Tony Castro, commented, "It is always very attractive to satisfy the client with a boat that represents his dreams and lives up and exceeds his expectations."
Skip Novak stated, "This expedition ship was conceived and designed for high latitude expedition trips, that means a high degree of self-reliance, practical ease while sailing and, of course, fitting into the Pelagic philosophy, i.e., simple systems that can be easily maintained even in the far-flung areas without specialist help."
With a robust fixed keel and a reinforced hull and deck structure, the Pelagic 77 was built for sailing in high latitudes. The Tony Castro Design was created as an evolution of the 22.5 metre Pelagic Australis, which was the result of adventurer Skip Novak's first 14 years of high latitude sailing.
Vinson of Antarctica has two carbon masts, that were set immediately after the launch, these masts allow the sail area to be well distributed and all sail systems, such as winches and jib rollers, can still be operated manually. Elsewhere, the yacht features some unusual solutions, twin engines with well-protected propellers, a workshop forward to allow running repairs at sea and a diesel stove in the aft saloon.
The yacht has a beam of 6.2 metres and a spacious interior design populated with sustainable bamboo furniture. It features a large pilothouse, a comfortable living area and galley aft, with most of the guest areas forward. The accommodation quarters consist of six double cabins forward of the pilothouse and can accommodate eight guests and 4 crew members.
The yacht is planning its first trips and sea trials around Northern Europe and then into the high Arctic, with a trip to Svalbard with its first set of clients. Longer term the boat is planning to voyage through the North-West passage on its way to Chile. Vinson of Antarctica will then be used for charter trips based out of Puerto Williams in South Chile.
An important part of this project was that the boat also had to be a tool to train the high latitude sailors of the future, so that high quality seamanship training programmes, endorsed by the RYA can be delivered onboard. The Cadena Sailing School in Puerto Williams, Chile (the closest sailing school to Cape Horn) has set up by the owner of Vinson of Antarctica and will offer the young sailors of Patagonia some fantastic opportunities to gain education through sailing.