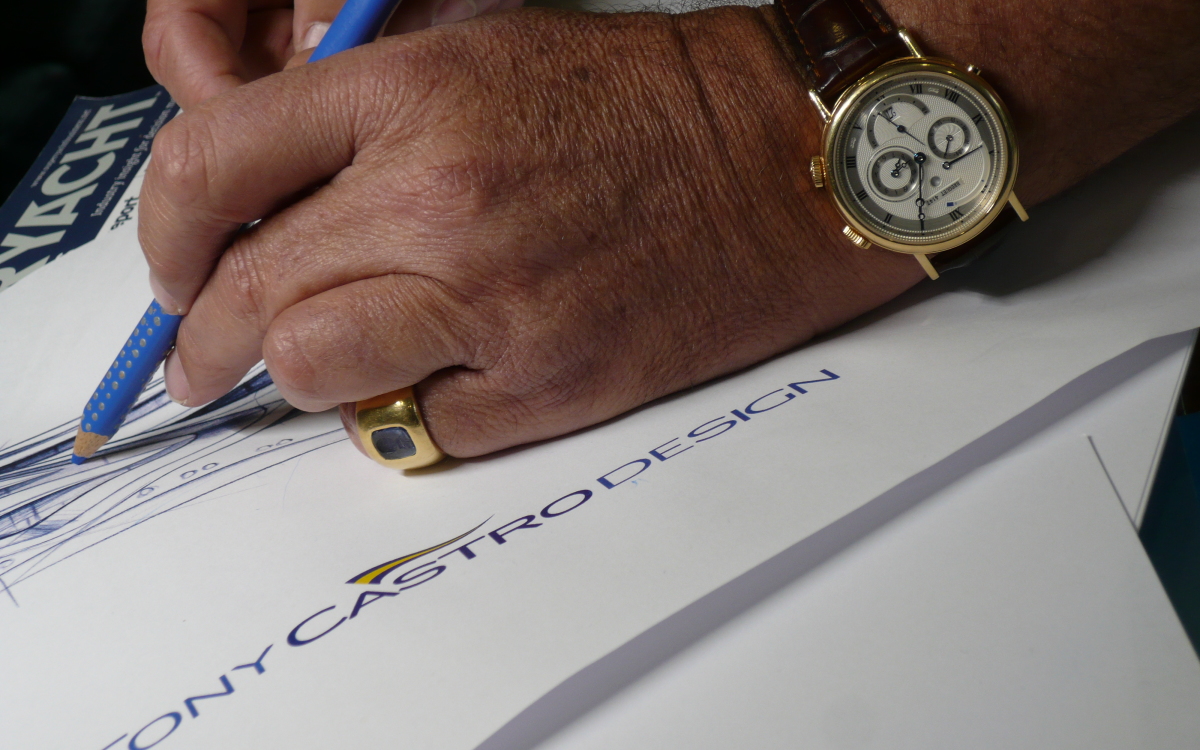 26 April 2016
Yacht Design or floating architecture?
I was reading an excellent article written by Stewart Campbell about the Designers Nuvolari & Lenard, which I very much admire..
I could not agree more about the lack of good old fashioned hand sketching ability, something we do a lot of in my own office. But there is a balance to be had, as there are things we can do now that would not have been possible 30 years ago. Balance is good for most things in life, not least a boat! By way of example, I once employed a young German guy who was one of the 3 that had worked on the famous "Maybach" limousine. He came for the German University Pforzheim, had a very impressive CV, and was unashamedly a pure "stylist" that could not use a computer! That was too extreme, and our industry cannot support such narrow capabilities.
I am extremely critical of the Universities that supposedly teach Yacht Design. The majority of graduates are unemployable. Most of the time it seems that someone forgot to teach them what they need to know in order to be useful and get a job. They should also teach them not to do proposals for free, another "cancer" spreading throughout our Industry, where even the most famous names are known to do this now! They above all should have kept some degree of professional integrity, but looks like as a result, all clients expect it these days!
There's something seriously wrong in the world of yacht design indeed and in many areas sadly. As the article says the magazines are full of non-existing boats one more extreme than the other, pointless design awards left and right, stupid boats, many ugly and badly conceived. Its "Design pollution" to me. A situation that is not likely to go away I fear.
The most worrying thing is that experience or even perhaps reputation does not have the value it once had. Anyone with an iPad is now an expert Yacht Designer, and the industry, the magazines and shipyards go along with it and even promote these people! Rarely does a Yacht Designer actually sail and understand the sea, and realise the respect one has to have for it, nor comes close to understanding how yachts are built or what it's like to have to run and maintain them. In this excellent article N&L also say "It's the only field in the world where the experts are not users", how very true.
Many Designers don't know the difference between being lucky and being really good at their job! Sure, one needs luck in life and most of us have had our lucky moments, meeting the right people at the right time etc, but I do miss the days when you only got a job if your design won the races. In those days you did not get a job because you were good looking or a friend of a Broker or Shipyard manager, you got it because you were good and winning those championships was the ultimate proof of your abilities. Even the best helmsman's could not win races if the boat was not fast. You know the saying "The tactician is always right when you got speed".
Frankly creating some Superyacht computer renderings is too easy, hence why so many people are doing it. It's not surprising that N&L finds this a bad thing as it makes it difficult for the good guys to get commissions, clients get lost in the blur of all the published renderings.
They are not alone, or the only ones good at it, there a few of them around! I have not yet designed the largest yacht in the World like N&L but in the racing world alone my designs did win 5 World Championships, and that is far more difficult than designing a big superyacht! Hah, yes I forgot, and also launched over 9500 production boats to our designs- probably more than N&L and most others I read about Lenard using a "spline". He and I must be two of the few that know what that is! I even check the computer lines from the most expensive software you can buy with my splines to this day, much to the amusement of my young employees who never learned that at school. Computers know how to make "smooth" curves but not "fair" ones. There is a world of difference. So "The abuse of 3D modelling is not only damaging yacht design, it's damaging design in general" is so very true I regret to agree.
Enough writing…I can see from the corner of my eye some sketching going on next door, and I am about to get my splines out to check the latest 3D model we have been creating!
I loved this article, fair winds to N&L and I'm pleased we have so much in common…